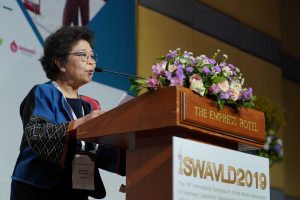 Thank you speech
By Prof. Dr. Achariya Sailasuta
Good afternoon and thank you very much for your kind participation to the 19th International Symposium of World Association of Veterinary Laboratory Diagnosticians and the OIE Seminar, during 19th -22nd June, 2019. at the Empress Convention Center, in the beautiful city, enriched of culture, Chiang Mai, Thailand.
All those who contributed to the conference: Thank you for all your excellent work! It is fair to conclude that the 19th ISWAVLD was a great success! So many people have contributed in so many ways to turn this event into a smoothly running symposium with many very interesting seminars, presentations and posters and a very good atmosphere for discussion and networking.
I owe much gratitude to Dr. Barbara Martin and WAVLD board members for selecting Chiang Mai, Thailand as the venue, to OIE, Ms.Jennifer N. Lasley, all international supporters, local supporters for giving structure to the program, invited speakers and all the valuable sponsors.
I would like to express our sincerest gratitude and appreciation to Dean of Faculty of Veterinary Science, Chulalongkorn University, Dean of Faculty of Veterinary Medicine, Chiang Mai University for all professors and students staff for supporting 19th ISWAVLD in many direct and indirect ways. I thank all sponsors for their generosity and interest in the conference. The staff of the Empress hotel and Empress Convention Center has taken care of professional excellence and high-quality catering and accommodation. The VNU exhibition Asia pacific has worked very professionally with us on organizing this symposium for two years preparation, since 2017.
Finally, my deepest gratitude goes to Associate Prof. Dr. Prachak Poomvises, the honorable chair, Associate Prof. Dr. Gunnaporn Suriyaphol, Chair of the scientific committee and her team, Associate Prof. Dr. Niwat Chansiripornchai, the coordinator to the OIE seminar, Associate Prof. Dr. Aranya Ponpornpisit, Secretary General and her team, Assist. Prof. Dr. Komkrich Teankum, the financial chair and his team, all the TAVLD committee and many others that I could not mentioned all who have played important roles on making in this symposium possible. And for you as participants are thanked for all your great participation, scientific input and for many fruitful discussions and interaction. Congratulations to the 3 award winners, I hoped that you will continue your mission on the laboratory diagnostic technology. "This was a great meeting" many of you have said to me. Thank you for being so positive! I personally would like to let you know how gratifying it was to receive your kind support and encouragement.
Have a safe trip back home and looking forward to welcome you again
Thanks you very much
Kob khun ka.
---
ISWAVLD 2019 reached a successful conclusion in Chiang Mai, Thailand, as track record below:
4

45 participants from 40 countries
44 speakers
31 sponsor companies
23 supporting associations
1 keynote lecture
2 plenary sessions
40 invited sessions
2 symposiums
1 pre-congress workshop
29 oral presentations
123 poster presentations
176 abstracts from 26 countries