Dr. Nick Moody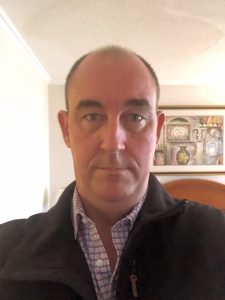 Dr Nick Moody, BSc (Hons), PhD. Group Leader – AAHL Fish Diseases Laboratory. Nick has 21 years research and diagnostic experience in mammalian/avian virology and serology and finfish virology. Nick joined the AAHL Fish Diseases Laboratory (AFDL) in February 2008 and has been responsible for all aspects (test development, validation and implementation) of virology and molecular testing for emerging and exotic diseases preparedness and response capability. He has been directly involved in responses to detection of IHHNV in Queensland prawns, which resulted in this agent being reclassified from exotic to enzootic, detection of different AbHV genotypes in Tasmanian abalone, confirmation of previously-exotic OsHV-1 in New South Wales, Tasmanian and South Australian Pacific oyster populations, detection of new YHV genotypes in prawns from Australia and China, detection and confirmation of Bonamia exitiosa and Perkinsus olseni in Victorian flat oysters and detection of the PirA and Pir B toxin genes in prawns from Queensland, associated with hepatopancreatitis. In 2016/17 Nick had a lead role in the confirmation of the presence of WSSV and subsequent national emergency response to the detection of White spot syndrome virus in prawns in Queensland. He is interested in aquatic animal disease response capability, characterising new aquatic animal viruses, assessment of new test platform technologies and test validation and quality assurance.
Externally funded research projects Nick leads generally arise from diagnostic and emergency response testing and current projects include investigations into the pathogenicity of newly detected enzootic and exotic pathogens (YHV7, YHV9, YHV10 and hepatopancreatitis and AHPND) in farmed Australian species, development of positive control strategies to reduce false-positive results, investigation of reduced doses of gamma-irradiation in the infectivity of WSSV to facilitate safe movement of bait, investigation of the efficacy of decontamination protocols in WSSV-infected prawn farms, the effect of pooling on test sensitivity and whole genome sequencing of enzootic and exotic WSSV strains.
He has travelled to France, South Korea, Vietnam and Chile for World Organisation for Animal Health (OIE) conferences and meetings, has been a special advisor to the OIE Aquatic Animal Health Standards Commission at their meetings in Paris, is an OIE Designated Expert for infection with Ranavirus species, epizootic haematopoietic necrosis virus and yellow head genotype 1 and member of the OIE ad hoc Groups on the OIE Manual of Diagnostic Tests for Aquatic Animals (Aquatic Manual) and Tilapia Lake Virus. Nick is also a NATA external auditor and member of the NATA Veterinary Testing Accreditation Advisory Committee.